FAQ: FREQUENTLY ASKED QUESTIONS
TRAVEL PREPARATION AND JOURNEY (FAQ)
What are the formalities required for my trip to Morocco? 
To be able to enter Morocco, all non-Moroccan visitors are required to present with a valid passport. Depending on the nationality, a visa might be also necessary. However, in general, European travelers do not need a visa for the purposes of tourism for up to three months.*
How can I get to your surf camp?
We organize the transfer by taxi from/to Essaouira and Agadir airports (travel time is about 1h30). If you arrive in Marrakech, you can take a bus with Supratour or CTM which takes about 3h30. We will then organize your transfer from/to the bus stations in Essaouira and Agadir to/from our camp. In case you are interested in being picked up at Marrakesh airport, we are happy to offer this extra service, however, this is not included in the price of our packages.
When can I arrive in the surf camp : which day and what time?
Most of the stays are from Saturday to Saturday. However, depending on the availability and the flights, we could organize your arrival or departure another day of the week. Regarding schedules, check-in rooms are from 2:00PM and check-out until 10:00AM. Depending on your arrival / departure time, you can leave your stuff at the surfcamp until your room is ready or before you leave.
Taxi transfers can be arranged at any time of the day or night. But for obvious reasons, we kindly ask you to avoid arrivals too early (before 8:00 am) or too late (after 9:00 pm) so that one of our team can welcome you properly 😉
What companies provide the flights to Agadir and Essaouira airports?
Below is a table of different companies which offer flights to Agadir and Essaouira for different departure cities and the frequency of flights per week.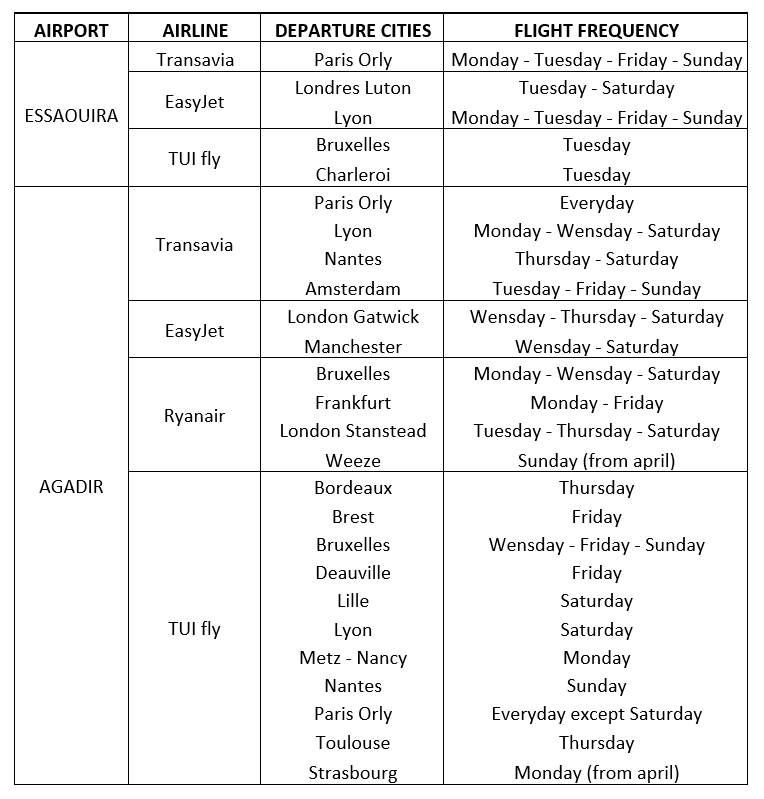 In addition, Air France and Royal Air Maroc offer regular daily flights.
What's the weather like in Morocco?
Winter Time (November – March):
Average external temperature during the day is 22 °C and in the evening it is14 °C
Average water temperature is 17 °C
Summer Time (April – October):
Average external temperature during the day is 28 °C and in the evening it is 22 °C
Average water temperature is 22 °C
What should I not forget to pack?
During winter, we highly recommend you to take some warmer clothes for the chillier evenings (such as sweaters, pants, jacket, beanie, and trainers) along with, of course, some summer clothes for the sunny days. During summer, you will need mostly the summer wear (shorts and t-shirts), however, we recommend you to take some long sleeves clothes and pants as it can get a bit chillier when the sun goes down.
We provide a bath towel and a bed linen. You should bring a beach towel, sunscreen, swimsuit, a pair of flip-flops, sunglasses and a hat. Don't forget to bring the USB key with you so you leave with photos of your best surfing sessions!
What is the local currency? Are there exchange offices or ATMs in the village?
The local currency is dirham (1 euro ≈ 10.50 dirhams). There is no exchange office or ATM in Imessouane, so if you need the money for any personal needs such as souvenirs, snacks, tea, extra water, fruit juices etc. you must withdraw/change the money at the airport.
What languages ​​are spoken in Morocco?
The most spoken language is Moroccan Arabic (Darija) and Berber (Amazigh). But do not worry, most people also speak French and English.
SURF COURSE (FAQ)

How are surf lessons organized?
We organize surf lessons according to the waves conditions and the tides. The surf lessons are adapted to the level of each person and there is a maximum of 7 people per one teacher. We usually do two sessions per day, one in the morning and one in the afternoon. In total, you will surf for about 5 hours on an average day, depending, of course on your physical conditions and the conditions of waves!
What kind of surfboards are available?
We have all types of boards; soft boards for beginners/ children and hard boards in all sizes for intermediate surfers (NSP, Torq). We offer a large range collection of surfboards (Takayama, Christenson, Bluff longboard), pro-Indiana model, shortboards, hard or inflatable SUP and carbon fiber paddleboards. You will have the possibility to try different boards according to different conditions of the waves, what is a massive advantage of our school.
What do we do if the conditions are not good?
If conditions are not good, we offer alternative activities. You can visit the nearby cities (Agadir and Essaouira), their souks and local craft places, go SUP, relax at the Imessouane massage center or go skateboarding. You can also take a long walk along the coast, observe the Bald Ibis or just grab an amazing avocado smoothie in one of the village's fruit juice bars and enjoy the breathtaking views and the local atmosphere.
When is the best time to surf?
In Morocco, surf conditions are good during the entire year. The season of big swells is during winter mainly in the areas of Taghazout and Agadir. Imessouane offers excellent and fairly steady surfing conditions during all seasons (even during the summer).
I have never surfed before, is it a problem?
No worries, you are here to learn! Imessouane is the perfect place to start. Our two spots are ideal for learning to surf. The Magic Bay is ideal for progressing: sandy bottom, little current, easy paddling out and protected spot ! There are no shore breaks or baïnes, but long and mellow waves with an easy access to the peak. Also, our instructors are there to supervise you and ensure your safety whether conditions are easy or trickier.
ACCOMMODATION (FAQ)
Can I book a private room?
Our Packages includes accommodation in a shared (non-mixed) room with a capacity of 2 to 4 people. Depending on availability, it is possible for a couple / two people to stay in a double / twin room for an additional 10 euros per night and for a single person to opt for a single room for an extra 15 € per night. We also offer private apartments for groups and families of 3 to 4 people with a supplement of € 20 per night.
What if I am on a special diet?
If you are on a special diet, please, write it on the form we send to you after doing your reservation. Our talented chef will do his best to fit your menu and special wishes.
What is provided in the surf lodge?
We provide a bath towel, sheets, and water during meals. If necessary, there is a possibility to wash your clothes.
Are babies and kids welcome?
As a family (with baby Inès born at the end of 2018), we are happy to welcome you with your children, regardless of their age!
We recommend waiting until they are 4-5 years old and comfortable enough in the water to introduce them to surfing and ride their first waves!
We can provide you with a baby cot, a high chair and other childcare accessories / toys on request

What kind of shops can you find in Imessouane?
Imessouane is a small village that offers all fundamental shops and facilities such as cafes/ juice bar, small grocery shops, surf shops, craft shops of local artisans, a barber, a massage center and a car service.
Can I buy and drink alcohol in Imsouane?
The purchase and consumption of alcohol is tolerated in Morocco, although this is not part of the local culture. Beers and table wine from Morocco are available at the local village bar. If you would like to consume spirits during your stay, you should plan on bringing it with you.