FREE SURF IMSOUANE
Do you already surf independently and prefer to stay in Imsouane with complete freedom? The Free Surf Imsouane Package has been designed for surf lovers who want a peaceful stay, away from the lively atmosphere of the surf camp. It includes your airport transfer, a stay in authentic, quality accommodations (your choice of a beachfront room or private apartment) as well as the rental of your surf equipment.
You will be able to take advantage of our unique stays close to the best surf spots where you will have the luxury of being able to take a quick walk to the ocean whenever you like. Our team will provide you with a large quiver from which to select the ideal board for your level. They will also be sure to give you some tips and advice on the village's surf spots and activities in the surrounding area.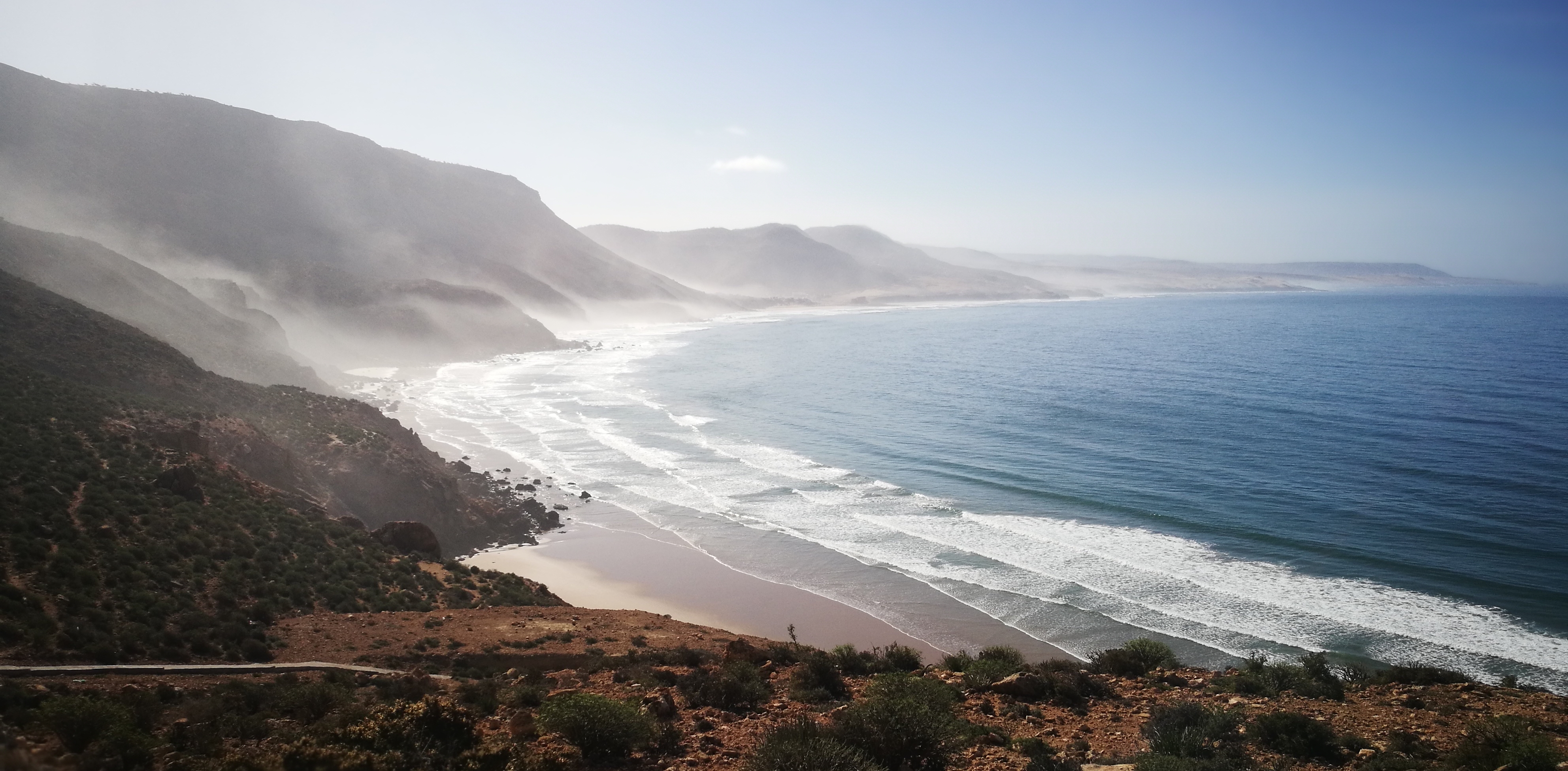 [Free Surf Imsouane – Available all year long]

ABOUT IMSOUANE
Located in 90 km north of Agadir, Imsouane is a small fishing village that we love! Far from everything but close to paradise… It is surrounded by an amazing nature which breaths peace and tranquility. It's perfect to disconnect from stressfull life and surf all day long! Surrounded by the ocean, Imsouane has an amazing surf potential within walking distance. The location offers a choice of 3 spots adapted to all levels : The Bay, The Reef and The Cathedral.
Discover Imsouane life style and its small restaurants, eat grilled fresh fish at the traditional harbor or order good Moroccan dishes. Let yourself follow the slowness of this magical place.
NB: we do not offer a custom freesurf package with full board. Each accommodation has a kitchen at your disposal.

UNIQUE ACCOMMODATION
Free Surf Imsouane package offers two options of unique accommodations :
Waterfront House – Dar Nana
Dar Nana is a charming home nestled on a cliff directly facing the Cathedral, one of the three surf breaks of Imsouane. It offers direct access to the beach and you will be able to check the surf every morning from your window.
This unique and beautiful home has been newly renovated to keep its authentic character and charm while offering a comfortable stay for its visitors.
With soft colors, chic materials and patterns, and top-of-the-range bedding, this beachfront house perfectly combines tradition and modernity. Directly facing the ocean, it is the ideal place to make your stay in Imsouane a unique experience! Its many terraces offer plenty of space for you to bask under the sun in a lounge chair or hammock or relax under the shade of a parasol.
With six bedrooms (one single, two doubles, one twin and two triples), shared bathrooms and access to a fully equipped kitchen, outdoor spaces and a living area, the atmosphere in this waterfront house is homely and peaceful. It offers both privacy and communality to its visitors. In the evenings, the direct view of the sunset, the starry sky and the moon's reflection on the water will take your breath away! You will fall asleep every night to the sound of waves breaking on the shore just steps away from you.
Private apartment – Dar Brahim
Dar Brahim is a private apartment of 60 m2 located just behind the surf camp, with ocean view.
Composed of a large living room with an open and equipped kitchen, it offers a view on the cathedral spot thanks to its bay windows and its large balcony. Dar Brahim has 2 bedrooms, one with a single bed and the other with a double bed or 2 single beds (depending on your needs) and its bathroom. A sofa bed is also available to accommodate 2 additional people. Wifi connection, sheets and towels are provided.
Recently refurbished, the apartment is bright and spacious. It is the ideal accommodation if you are looking for a little independence while enjoying the proximity of the surfcamp!
WHAT INCLUDES FREE SURF IMSOUANE
Shuttle

from & to Agadir/Essaouira airport or bus station *
Accommodation in front of the ocean **
Surf equipment (board and wetsuit)
Free wifi
FREE SURF IMSOUANE

Price per person for a week :

Water Front House – Dar Nana
(Single/Double/Triple room) :
485€/430€/410€

Private apartment – Dar Brahim
(2 pers/3 pers/4-5 pers):
490€ / 420€ / 350€

* Transfer from or to Marrakech possible for extra 70€ (one way)