MOROCCO SURF TRIP – Right time, right place
Surf trip lover, get your backpack ready ! "Morocco Surf Trip" is a package for the adventurer that is hiding inside each and every one of you. Starting this summer !
From Mirleft, you will travel along the coastline with the region's best surf guide to discover wild landscapes, some amazing surf spots as well as Moroccan culture ! Get sure to surf the best waves at the best moment thanks to its knowledge. In small group, you will be able to move depending on the conditions. You will surf some famous spots such as Sidi Ifni and Mirleft, but also empty and some "secret" ones.  
But you will not only surf. Thanks to Hamza, you will meet local people and explore the treasures of the region. Discover the medina of Tiznit where you can buy spices, Sidi Ifni and its old spanish enclave architecture, Legzira's natural arches, Sidi Boufdail dunes facing the ocean… 
As an option, we propose an excursion to the White Beach and its spots at 80km in the south of Sidi Ifni. It takes 1h30 to go there with a 4×4 (60€/person). On site, as an extra, you will have the opportunity to try other activities such as quad, paraglider, horse ride…
The Morocco Surf Trip package is available all year long. A minimum of 3 persons is required. You can either join an existing trip, or motivate your friends.

THE SPOTS
From Aglou (north) to Sidi Ifni (south), you will discover a wide range of spots, from pointbreak to beachbreak. We commit to get you to not crowded spots and adapted to your level !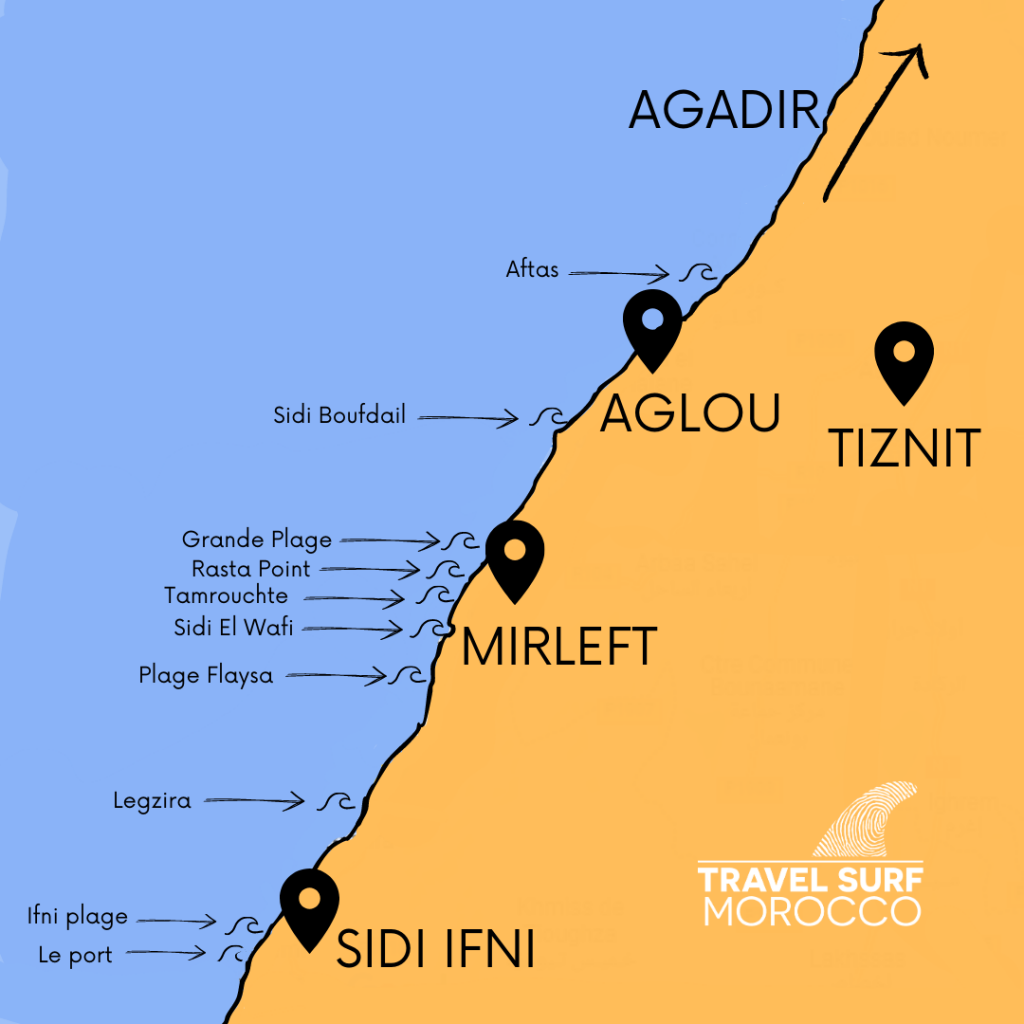 Mirleft
45 minutes away from Tiznit, Mirleft is a hillside village. Its main street is trimmed with arcades and cafés. It's also famous for the numerous spots you will find there : Grande Plage, Rasta Point, Marabout, Tamarouchte…
Legzira
If you head south from Agadir, Morocco towards Sidi Ifni, just 10km out you'll find this amazing place where nature shows off her beauty and the water and wind have carved the majestic red stone arches that extend along this sandy beach. It's quiet here, not very touristic …you can really feel the sound of the ocean and it transports you to another world. It's known among nature lovers and surfers, not only for its beauty, but also for its friendliness. The colors in the morning and at sunset are unique and unforgettable. You can try paragliding there to discover the arches differently.
Sidi Ifni
Along Morocco's southern coast, past the European throngs that fill Agadir is calm, quiet, and secluded Sidi Ifni. The main wave is a long righthand wall breaking over boulder type rocks way on the outside. 2 lefts and the town beachbreak complete the panorama on the "promenade". 2km to the south, a righthander breaks off the end of the harbour wall that protects an inside left when big.
ACCOMODATION
For this trip, we have selected a top-quality hosting in Mirleft, with all the necessary comfort. It has 4 spacious rooms and a cosy living room, as well as a large bathroom and a nice terrace : you will feel at home !
NEXT TRIPS
• 19-26 august 2023
• 16-23 september 2023
• 23-30 september 2023
• 21-28 october 2023
• 11-18 november 2023
• 9-16 december 2023
If you want to organize a surf trip with your friends on specific dates, we can do it (minimum of 3 people) !
WHAT TO EXPECT – MOROCCO SURF TRIP
✈️ All-inclusive formula : book your flight, we'll do the rest ! 
🚙 Guiding on the best spots of the area at the best moment
🌊 Several surf sessions, according to your wishes
😎 Good ambiance in a genuine"surf trip" spirit
🐟 Traditional and tasty food
🇲🇦  Discovery of local culture

"Surftrip organised in Mirleft, south of Agadir, on may : we loved the accommodation and welcome, but also the search for the spots with a local guide. Above all, nobody is in the water !" Maxime, May 2023
"Thank you to Travel Surf Morocco's team for organizing our tailor-made surf trip in the south of Agadir. A huge thanks to Hamza, Momo and Khadia for their welcome, their kindness and their availability. Beautiful meetings in authentic Morocco !" Emmanuel, May 2023
What includes
Transfer from & to Agadir airport or bus station*

Quality accommodation *

3 meals per day (breakfast, lunch at the beach and dinner)
Daily surf sessions with an experienced local coach
Transport to the best surfspots around everyday
Surf equipment (board and wetsuit)
Wifi

Morocco Surf Trip
from 850€/week
* in double or twin room. Upon availability : private room (one person) for extra 20€/night